The BELLUNA DOME is the home of the Saitama Seibu Lions professional baseball team. As an all-weather dome facility, it holds around 70 games per year. In addition to professional baseball games, it has a proven track record as a venue for various events including concerts since its opening. Numerous musicians have performed, and many world-class events have been held at this facility.
Location
2135 Kamiyamaguchi, Tokorozawa-shi, Saitama, 359-1189 Japan
Overview of BELLUNA DOME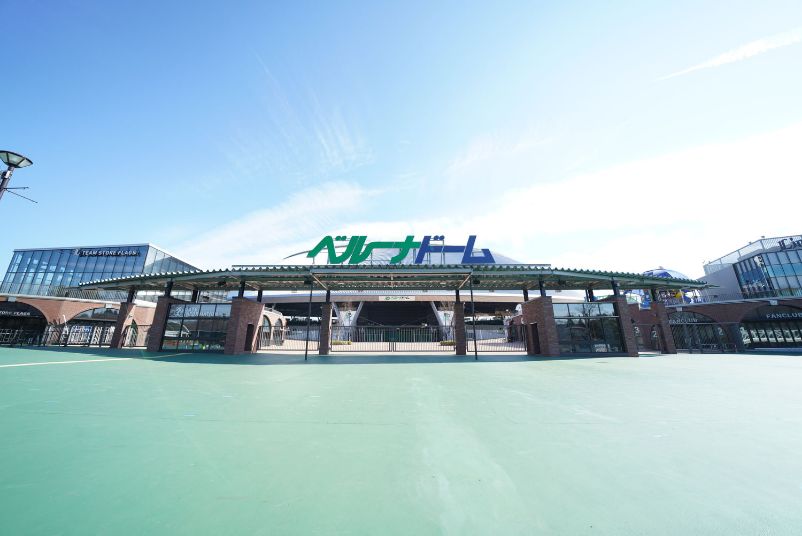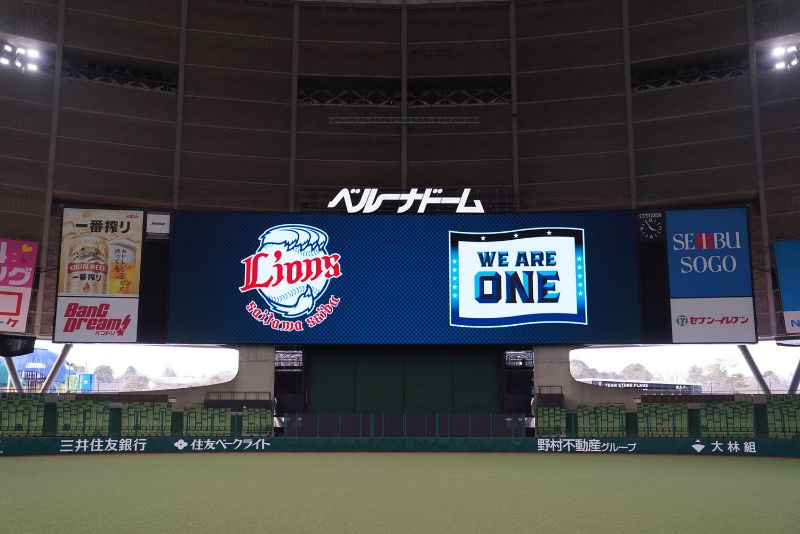 Facility Overview
Building are
about 433,086 ft2
Total floor area
about 505,936 ft2
Height
Ceiling height: about 212 ft (from ground surface),Eave height: about 15 ft - 39 ft
Firld
Area about 134,926 ft2
Left/Right: about 328 ft, Center: about 400 ft
Capacity
31,552
Number of stores
77 (permanent stores)
Peripheral facilities nearby
Shishi Building / DAZN Deck / Teikyo Kids Field / Lion Deck / Train Park / American Express Premium&reg Lounge / Lions Suite Room / Lions Owners Restaurant / Conference Room / CAR3219 Field (Farm ballpark) / Lions Training Center / Young Players' Dormitory Wakajishi, etc.
Lighting&Illumination
| | |
| --- | --- |
| LED lighting | 508 field lighting projectors / 40 spatial lighting projectors |
| Illumination | 1,500-2,500 lux |
Vision Screen
L Vision (Main Scoreboard)
Screen area: 601.62 ㎡ (W 46.08 m × H 13.06 m)
Number of pixels: W 2,880 × H 816 pixels
Sub Vision Screen
Screen area: 57.67 ㎡ (W 10.24 m × H 5.63 m)
Number of pixels: W 640 × H 352 pixels
DAZN Vision Screen
Screen area: 21.23 ㎡ (W 6.14 m × H 3.46 m)
Number of pixels: W 768 × H 432 pixels
ACCESS
<Train>
35 min from Ikebukuro (using the Seibu Ikebukuro Line)
47 min from Seibu-Shinjuku (using the Seibu Shinjuku Line)
24 min from Kokubunji (using the Seibu Tamako Line or Yamaguchi Line (Leo Liner))
From Saitama/Fuchu-Hommachi (using the JR Musashino Line)
38 min from Minami-Urawa
33 min from Fuchu-Hommachi
80 min from Seibu-Chichibu/Hon-Kawagoe (using the Seibu lines)
From Yokohama/Shibuya/Shin-Kiba (using trains linking directly to Seibu Ikebukuro Line)
82 min from Yokohama
56 min from Shibuya
79 min from Shin-Kiba

* The time required varies depending on the time of day and other factors. Please also check each railway company for the actual time required.

<Bus (only when first team games are held)> Runs between Tachikawa Station North Exit, Tamagawajosui Station, Kamikitadai Station and in front of the Seibu Dome (BELLUNA DOME) Please see below for the Seibu Bus schedule on days when first team games are held.
<Car>
Kan-Etsu Expressway
12 km from Tokorozawa Interchange (normally 30 min)
Ken-O Expressway
10 km from Iruma Interchange (normally 20 min)
Chuo Expressway
20 km from Kunitachi Fuchu Interchange (normally 60 min)

<Shinkansen>
52 min from Tokyo Station via Ikebukuro
52 min from Ueno Station via Ikebukuro
45 min from Omiya Station via Musashi-Urawa

<Airplane>
When coming by plane (Haneda Airport)
65 min from Shinagawa via Ikebukuro

Request to Visitors
Please use public transportation during large events such as professional baseball games and concerts.
Instances of inconsiderate behavior, such as illegal parking or trespassing, have inconvenienced neighboring residents.
Operating Company
SEIBU LIONS, INC.